If you need to fix your busted printer before the new year chimes in, then look no further than Cal Tech, the epicenter of all your printer repair service needs servicing Los Angeles County, San Fernando Valley, Pasadena, and all of Orange County! We have offered high-quality, adept services for more than 35 years, and can offer you the solution to any problems you are experiencing with your printer by only the most trained and knowledgeable printing professionals.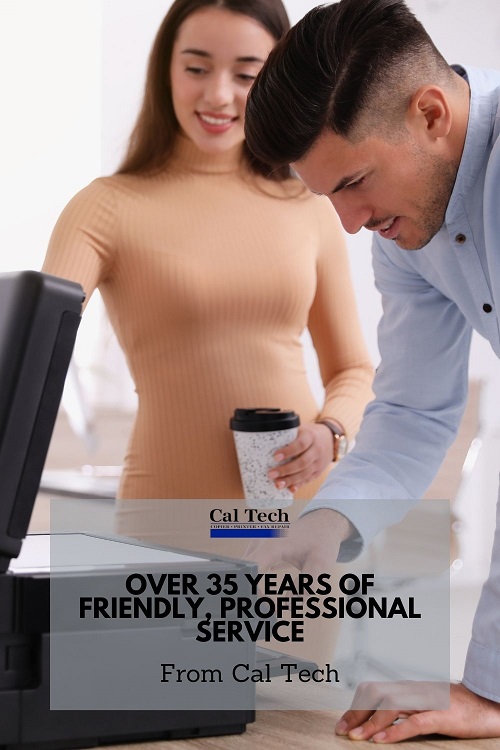 Having a reliable printer is essential for today's working environment, whether you work in a traditional office setting or from home. If you are constantly having problems with your printer, it can create daily stress for your professional life as well as your colleagues'. You may have even considered just giving your piece-of-junk printer that is slowing down your company's productivity level the pink slip and just purchasing a new one so that you don't have to deal with it anymore, but buying a new machine can be costly, so why throw more money at the problem with you can have a qualified printing expert solve your problem for less?
At Cal Tech, we believe everyone is entitled to an excellent printer. We do not believe in short-term solutions to the frustrating drawbacks you are experiencing. Our copier repair and printing specialists will examine every nook and cranny to assure you that our solutions will serve you in the long run. It is typically recommended that you have your office tech service once a year, so we offer annual check-ups, but sometimes our machines have sick days just like us. So if you ever find yourself in an unexpected pickle even after a recent service, all our repair services come with a 60-day warranty.
Our customers love us and definitely see the difference in the job we do, "I am very pleased and satisfied with the service and the business copier for my home office," says Ruanda Barnes from Torrance. "The owner was very friendly, easy to talk with, and very helpful in my selection. My copier is working great and handles the volume of paperwork I need. I recommend Cal Tech Copier to any person or business that is looking for a copier or copier service. When I am ready for a new copier for my other office Cal Tech Copier is on my #1 list." "Cal Tech is the best!!!!!" exclaims Sergio Lara from Lynwood. "They did an amazing job servicing my laser jet printer, and their technician Alfonso did a phenomenal job!! I would highly recommend them to all my friends and family members."You could choose to get service somewhere else, but why would you? We welcome you to join our family of delighted customers today, and say goodbye to an unreliable printer for good! Our top priority is to leave our valued customers smiling, and with over three decades of quality and satisfaction, you are bound to experience the difference. Don't wait and call today at 1-800-834-0092 and enjoy a 20% discount on your printer repair service!