If you work in an office, whether in a professional space or in your own home, you know the importance of having a dependable and reliable printer. Sometimes the world of technology can be difficult to navigate, especially if your printer breaks and you don't know how to fix or even diagnose the problem you're experiencing. You might be wondering "where is the best printer repair near me?" Fortunately, CalTech is committed to serving Los Angeles, Orange County, and San Fernando Valley professionals with the highest quality products for all of your work and personal-related printing needs.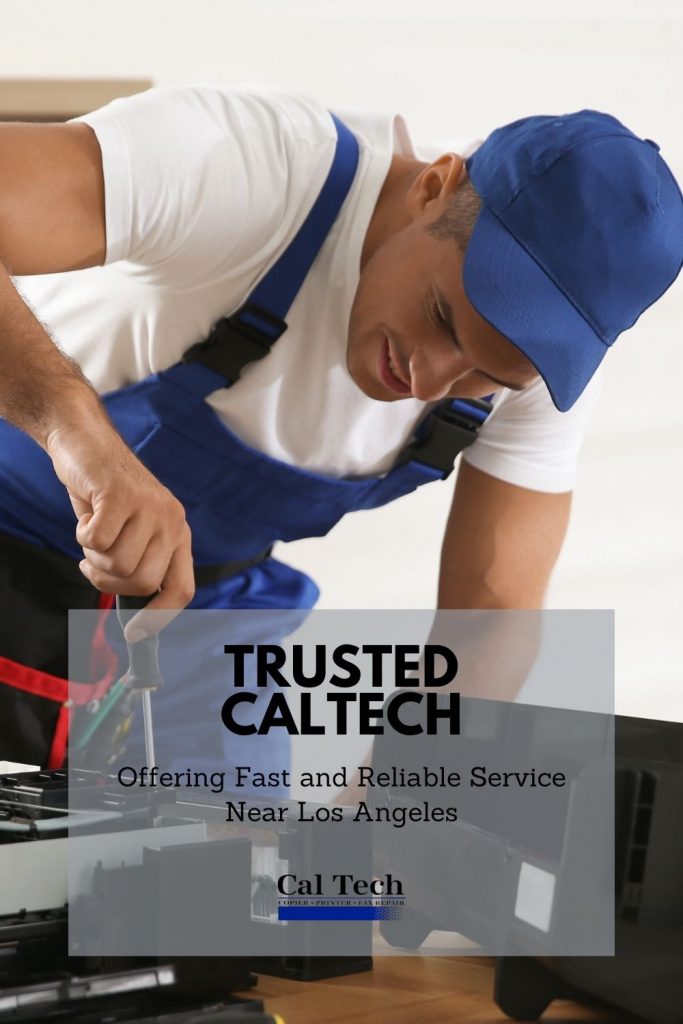 Having your printer break can be a professional nightmare. Whether it's your university thesis you have been preparing for months on end or a quality assurance report for your company, we understand the importance of a faithful printing machine and printer supplies for all purposes of your tech-based life in the 21st century. You may become tempted to throw your wrecked machine out and replace it because you may feel that throwing some extra cash at the problem is worth saving you all the stress. However, as a general rule of thumb, you probably don't want to replace your printer if it will cost less than $200 to repair it. However, at CalTech, we believe in coming up with long-term solutions to your technical problems. We will even come straight to your home or your office for you. There is no such thing as "quick fixes" here! In the case where you might be needing to see us again sooner than later, we also offer a 60-day warranty.
Our decades of quality assurance have served us well, and our customers couldn't agree more! "Yikes…These people are exceptional," says Sig S. from Long Beach. I have a 15-year-old HP printer which I will never give up because it takes '3D images'…..I called Cal Tech Copier (just found them on Google) on the off chance they could fix it. They told me they had a serviceman in my neighborhood in Long Beach. And sure enough, he arrived within 90 minutes. They fixed it and they sold me new print heads and toner at a great price as well, better than I could get on the internet…Use this company if you ever need this type of repair."
Satisfied customer Susan Rankine is thrilled about our professionalism, quality, responsiveness, and value of our service. "We have used Cal Tech twice and both technicians were absolutely amazing, Mark and Alex," she writes in her 5-star review. "Kathy in Customer Service is very helpful and diligent too. We will continue to do business with them and you will not be disappointed if you try their services."
We would love for you to discover the difference and join the thousands of satisfied customers who have availed of our printer and copier repair in your area. If you are currently experiencing problems with your home or work printer please drop us a line. So the next time you're asking yourself, "what is the best printer repair near me?", call CalTech at 1-800-834-0092 today and get 20% off your first service today!