Los Angeles Printer & Copier Repair Experts
After spending more than 35 years in business, Cal Tech Copier has accumulated a wealth of knowledge and experience in commercial copier/printer supplies and copier and printer repair service. Many Los Angeles-based businesses require high-functioning office equipment to keep their productivity levels at an all-time high. Otherwise, projects and communications can start to fall through the cracks. The best way to ensure that these office machines are working at their fullest capacity is to leave their maintenance and repairs in the hands of seasoned professionals. Dysfunctional or broken printers and copiers can slow down your company's daily progress. Additionally, the costs of outsourcing your printing can reach more than five times the cost of in-house printing. Our team of skilled technicians will make sure you can print and copy without worrying about the reliability of your technology. We don't just run quick fixes and keep our fingers crossed. Instead, we seek to provide long-term solutions. Our knowledge of various generations of printers and copiers allows us to perform conclusive on-site repairs that get your business running efficiently again. All our repairs also include a 60-day warranty, so on the off-chance that something goes wrong, we'll return it and make things right.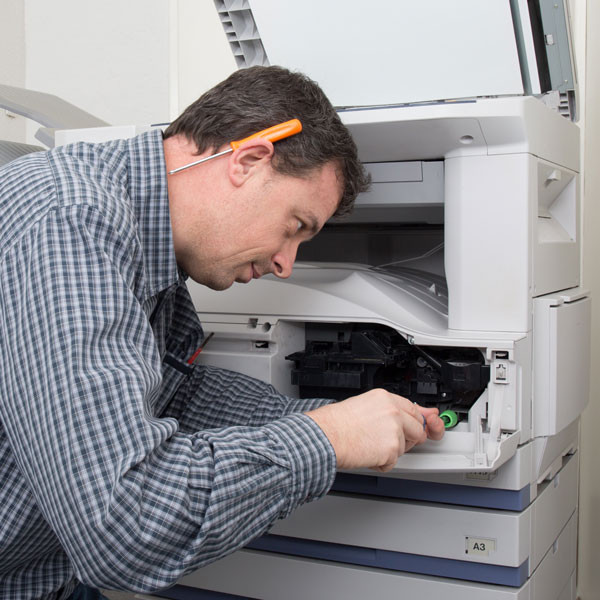 Thorough Service with Matching Parts
When our team visits any commercial site to perform repairs on a printer or copier, we provide a well-rounded experience that ensures full customer satisfaction. In addition to making the necessary repairs, our factory-trained technicians also inspect and thoroughly clean your equipment. We always visit your business with common parts in hand that cover most repair needs, so you don't have to waste additional time waiting for us to order parts. After completing service on your printer or copier, our team tests it out to make sure your system is fully operational and clean before we leave. You don't have to neglect office equipment maintenance ever again with our maintenance and service agreements, which cover all makes and models of printers and copiers. For frequently used machines, we recommend quarterly evaluations to ensure that everything is working properly. Otherwise, we can come by your office once a year to check on office hardware. You can choose from short- or long-term agreements that include parts and labor. Staying on top of your equipment maintenance can minimize performance issues and improve your machines' longevity.
Call for a Free Estimate on Service
With the expert repairs and maintenance coverage Cal Tech Copier offers, you can keep your equipment running at optimal levels and get prompt repairs whenever a problem arises. For printer and copier repair emergencies, take advantage of our same-day and on-demand services to minimize your waiting time. We're proud to offer our skillset and expertise with commercial clients throughout the Los Angeles area, including Long Beach, Orange County, San Fernando Valley, and Pasadena. Don't let your business suffer due to office equipment failure. Give us a call today to get a free estimate on the copier and printer repair service you need.
Call Us for Service Today and
Receive a 20% Discount!