Printer & Copier Leasing in the Los Angeles, CA Area
Keep your costs down by printing in-house on a printer or copier at your commercial location. Cal Tech Copier has put over 35 years into helping businesses streamline their printing needs with our printer and copier leasing. Our Los Angeles, CA-area clients enjoy the dependable repair, maintenance, toner, and sales we provide, and our leasing services put a new machine of your choice in your business space. We carry all makes and models of printers and copiers for short-term or long-term agreements. If you choose to buy a machine in the future, we'll gladly help you select the exact piece of equipment that suits your commercial needs. Until then, we still offer a broad range of printers and copiers for you to lease. The advantage of in-house printing affects your financial health and productivity. There's no waiting or astronomical price tag for a third-party printer to fill your order. If your business requires a printer, leasing puts the equipment in your office or retail site with affordable payments without the burdens of expensive repairs and lost efficiency as it ages.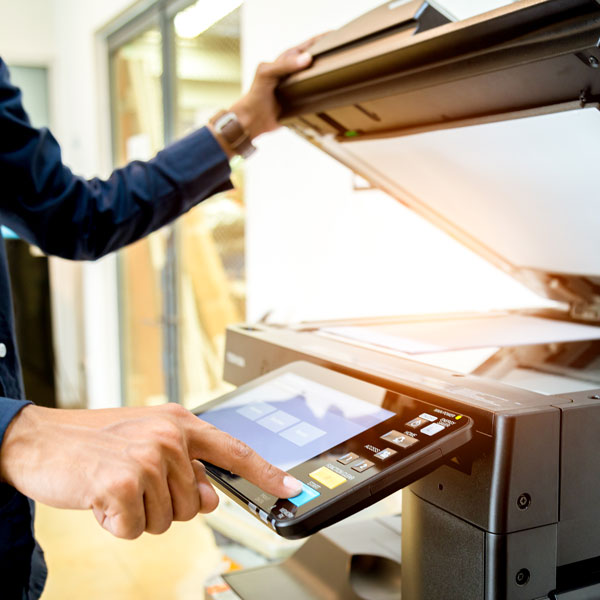 Reasons to Lease Your Equipment
The perks of leasing a printer or copier instead of buying include using a fully functional machine on-site without the downsides of investing in a permanent piece. You don't have to worry about your equipment getting older and depreciating in value. As equipment ages, the costs of repairs and maintenance can increase. But with a leased machine, you can upgrade to a newer model and avoid the financial drain of failing equipment. The ability to stay current with the latest models of printers and copiers gives businesses an edge in productivity when it comes to high-volume printing. Newer technology comes with newer features at your fingertips. At Cal Tech Copier, you can choose from a plethora of reputable brands, including the following:
Canon®
Lexmark™
Samsung
Sharp®
Toshiba
Brother®
Dell®
Epson®
Imagistics
JVC
Panasonic™
Tektronix
Xerox®
Lanier
HP®
NEC®
Neopost®
Okidata®
And more
Lease an Affordable Commercial Printing Solution
Cal Tech Copier's leasing options for copiers, printers, and fax machines are an affordable printing option for companies that want to spend less. You can get a new model with the features and print capabilities that suit your needs and spend less than if you bought it upfront. We'll help you enjoy the convenience of a high-quality printer or copier in your office, bank, restaurant, or another type of business. You can also count on us for any maintenance, repairs, and toner you need throughout your lease. Give us a call today to discuss the type of printer or copier you need, and we'll help you select the make and model that's perfect for you.
Call Us for Service Today and
Receive a 20% Discount!