A great font of knowledge and hands-on experience has been gathered within Cal Tech Copier on the back of being 35 years in the copying and printer repair service. Even with the advancement of technology, office equipment needs to operate at a level where production and efficiency can only go up. This is especially the case for those that work within Los Angeles, because those that don't maintain that efficiency and production can find their communication and operating level sag in comparison to others. To remove all doubt that any and that all vital office equipment can stay at the standard that workers need them to be it, is to guarantee that their maintenance and services is continued thanks to the skilled technicians that specialize in this field. The most mundane issues such as a broken scanner or an inefficient printer can cause a great deal of lag for the inner workings of an office's cohesion. This issue can be further compounded if offices forgo having their own printers and instead outsource such a service, making such a simple process five times more expensive than simply having your own machine.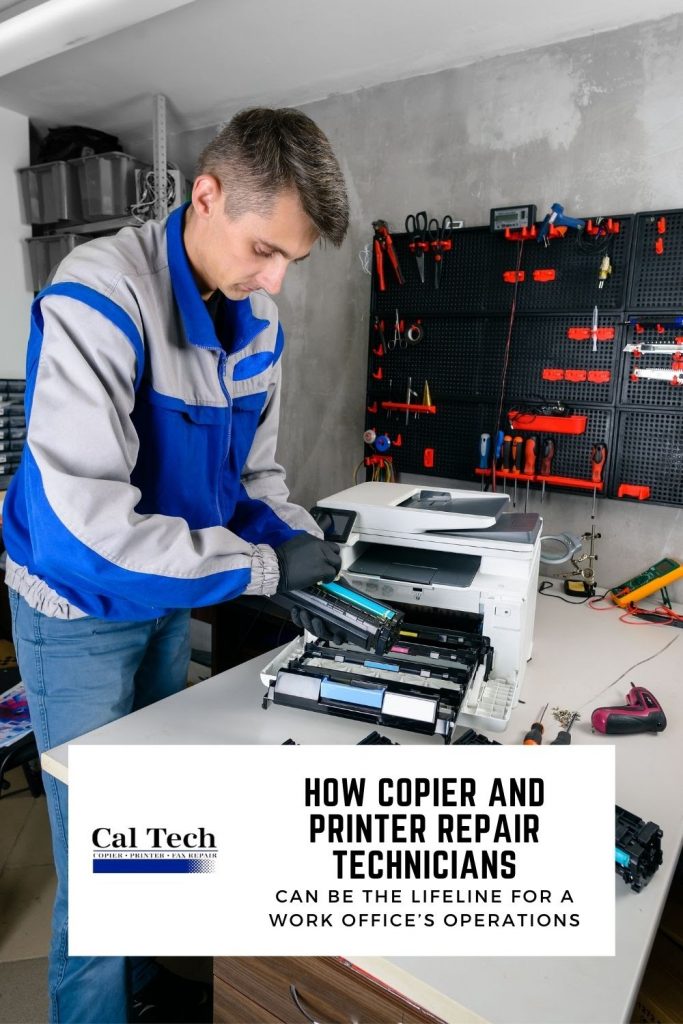 Having to work whilst relying on the integrity of the machines you need to function can be a great hassle, which thankfully our team of specialists will ensure that such worries are the least of your concern. We will ensure that you get your money's worth in repairs, taking the time to solve the root of all your efficiency problems so repeat visits are not needed. Our printer repair service combines our expertise on many different brands of printers and copiers so that your office or company is running at peak productivity. And if you happen to find anything still plaguing your recently repaired equipment, then a two month-warranty will ensure that we'll mend any unfinished issues that pop up.
Making sure that the customers need is satisfied is our chief concern when it comes to repairing printers or conducting a copier repair on-site. We will even ensure that the inner and outer workings of your machines and equipment will be thoroughly cleaned after conducting our printer repair service as requested. Steps are also taken to reduce the time needed to finish our repairs by making sure that we have parts that are shared between most printers or copiers whenever our services are needed. Our technicians will even take care to run a few trials runs with the equipment that was repaired so that the chance of a repeat trip is minimized.
With our help, letting the problems that plague your equipment fester becomes a thing of the past, thanks to our ability to fix the issues of all printers and copiers regardless of version or brand. Our technicians and experts highly recommend 4 visits a year to make the equipment within the office hasn't lost its efficiency and so that no long-term problems are building. If you want to continue in sustaining the level of production in your office equipment then you can choose either a short-term agreement or long-term accord to ensure that our copier repair and printer repair service can give you assistance when you need it most.
Making sure that the necessary equipment in your office gets quick and instant fixes are the primary concern for our specialists in Cal Tech Copier. Using the assistance that we can provide in the case of a technological disaster is paramount for your office's integrity. With the help, we provide in locations like San Fernando Valley, Orange County, and Pasadena, there are few populous areas in Los Angeles that we don't cover. With just a quick call, your equipment woes within the office can be kept at a minimum and the pain of having to purchase a brand new set of equipment can be kept at bay.